Sliding, self-supporting gates.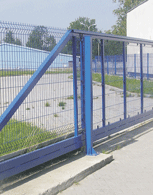 Modern sliding, self-supporting MONTANA S.A. gates are made to size up to the breadth of 10 m.
Specific sizes are enlisted in the price list. The gates may be delivered in the galvanised form or galvanised and powder-painted in any colour from  the RAL palette.
In order to guarantee the proper stiffness of the long gates, their wings may be filled with closed winterbent profiles. The sliding, self-supporting may be adjusted to manual drive or may be sold with an electromechanic drive that is radio, magnetic key, or button-operated. In case of large gates it is recommended using the electromechanic drives considering their large weight and inertia of the wing that is being set in motion.
Private residence, Gardens, School Yards, Office Buildings, Shops, Tennis Courts