WICKETS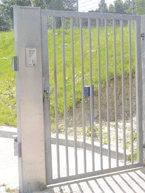 Wickets are an integral part of the MONTANA fencing systems. The filling of wickets is suitable for each type of the barred spans:
Delta 55, Bis 86, Uno 86, or may be universally made by the 20×20 mm section.
All our wickets are made to size. The price table enlists specific sizes, where one can find the breadth measured of an open wicket between a post and a wing. The height is measured between extreme wing sizes. Wickets may be equipped with mechanical locks with a patent insert or with locks with an electromagnetic catch.
The wicket posts are made of a closed profile whose intersection is square and equals 60×60x2 mm or 70×70x3 mm.
Hinges may be regulated as to the wing position and protection against the theft of a wing in case of an open wicket.
The wicket posts are equipped with handles for installing the barred spans.
We also offer wickets that are hot galvanised and painted with powder paint in any colour from the RAL palette.
The assembly manual of our fencing systems, as well as their use can be downloaded from the right side of our website.
All of the fencing elements, i.e. barred spans, posts, handles are firmly protected against corrosion with an at least 70-micrometre-thick zinc layer.
Additionally, they may be covered with a powder paint in any colour from the RAL palette. The anticorrosive warranty coverage of the fencing equals 5 years.