UNO 86 FENCING SYSTEM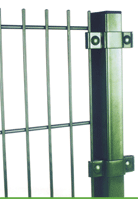 This fencing system is based on spans whose construction is the simplest, that is straight spans welded perpendicularly. The fact that it is made of ø 6 mm bars and ø 8 mm bars guarantees its resistance. Its crude simplicity makes it a bit less popular.
People who chose this particular kind of fence are concerned more with durability and solidity than the aesthetics. This fence is appropriate for any kind of back-up areas or outer warehouse areas. Like all our products also this fence is characterized by high quality of both, its workmanship and the used materials. Hot galvanizing and optional powder painting assure anticorrosive protection.
The assembly of this fence can be handled even by people who have never before had contact with this type of work.
UNO 86 – Technical data:
horizontal bar   Ø8 mm – 0.4
vertical bar  Ø6 mm – 0.4
mesh 50×200 mm ± 1
span length 2510 mm ± 2
span height  830 – 2380 mm ± 2
arterial posts  profile 60×40x2 mm
final posts    profile 60×40x2 mm
corner posts    profile   60×60x2 mm