BIS FENCING SYSTEM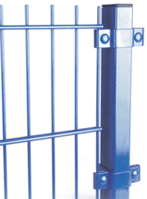 BIS fencing system are the most massive ones. Their stiffness and durability is the greatest. The construction of BIS fencing systems is extremely solid, which increases their weight and also their price. It is a fence whose main aim is to assure the highest safety of the fenced area.
BIS fencing system is used mainly to fence open warehouse areas and grounds under surveillance, for example military units. When buying these fencing systems, customers do not pay attention to their aesthetics, but to the solidity and spans' stiffness. It does not, however, change the fact that also these fences are finished with hot galvanizing and, optionally, powder painting. Thanks to this, despite their main aim, they do look aesthetic and are corrosion-proof.
 The assembly of this fence can be handled even by people who have never before had contact with this type of work. It is possible to use special nuts when assembling secures the fences from being stolen.
BIS 86 – Technical data:
Horizontal bar   2 x  ø 8 mm -0.4
Vertical bar      x 5 mm – 0.4
BIS 86 – Technical data:
Horizontal bar:   2 x  ø 6 mm -0.4
Vertical bar:      x 5 mm – 0.4
Mesh:               50×200 mm ± 1
Span length       2510 mm ± 2
Span height       830 – 2430 mm ± 2
Arterial posts   profile 60×40x2 mm
Final posts       profile  60 x40×2 mm
Corner posts   profile  60×60x2 mm
BIS  Private Residences, Gardens, Sport Premises, Warehouses, Roads, Guarded Premises, Parking Lots